Martin Waugh
Martin Waugh combines art and science to capture nature's infinite beauty.
Throughout history, water has calmed the soul, soothed the spirit and healed the wounded. Martin's free-flowing photography evokes images from rolling, rhythmic oceans to drops of water falling upon a lake, taking one on a spiritual journey bounded only by imagination.
Martin's creative uses of high-speed photography make it possible to capture the smooth and effortless curves of liquid, eliciting a childlike sense of fun and whimsy. Interpretations of his work often reveal as much about the viewer as the artist. His images are engaging metaphors for life and are as intriguing to the eye as they are thought provoking.
By varying the size, speed and position of drops, as well as the color, viscosity, and surface tension, Martin creates a panorama of color, movement and intrigue.
Artist Statement
Liquid Sculpture images are fluids in motion, frozen in time by a flash of light. They are droplets witnessed in mid-splash.
I orchestrate these sculptures by accurately aiming the dro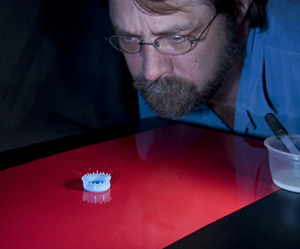 ps and releasing them with precise timing. As nature takes its course, I photograph the unfolding forms using a digital camera and electronic flash.
I instigate the myriad of shapes by varying the drops' trajectories and manipulating their physical properties. Color, viscosity, and surface tension are controlled with dye, glycerin, and soap.
Fluids in motion fascinate my senses. I feel their smooth and effortless curves: structures reflecting a perfect balance of dynamic forces. They tickle some faint physical memory, like a scent evoking a forgotten mix of feelings.
I am currently working on several custom assignments, as well as preparing to take stereographic photos of the sculptures. This will allow the viewer to better understand the shapes and see additional detail.

Please feel free to contact me with questions, queries, suggestions or musings.
Best,
Martin Waugh