If you have a rewards program set up at your company and your supplies are beginning to run low where gifts, awards and rewards for your employees are concerned, here a handful of options to consider from our new arrivals. One of these may be exactly what you're looking for!
The Thanks For Being Awesome Stress Reliever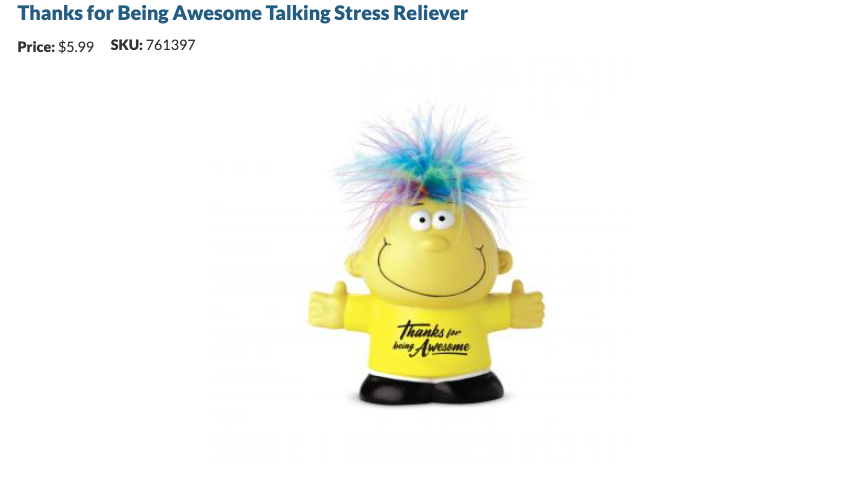 This bright and colorful little guy is a fun, low-cost gift that's sure to be a conversation starter for whomever you give it to. In addition to that, he's a genuine help in terms of reducing stress, which increases productivity, making this gift a win-win indeed!
When the recipient squeezes the little toy, he or she will hear a pre-recorded message that's virtually guaranteed to bring a smile and help chase the stress away. Best of all, you can get a generous discount for ordering in bulk, so you can really stock up on these.
The Change Wave Motivational Poster
The right piece of art, given to the right person can have a tremendous impact on productivity and morale. This print, offered in a variety of sizes and framing options, is simply gorgeous. It features a wave just before it breaks, and an image of the sun as seen through the wave funnel. Beneath that, you'll find these words:
"Change – If you're not riding the wave of change…you'll find yourself beneath it."
It's a beautiful print with a powerful message attached. A gift that's sure to be treasured.
The Part of an Epic Team Rugged Notebook
Another delightfully low-cost gift option, these fantastic notebooks contain 50 white lined pages bound by a hardcover. Each also comes with an elastic belly band and a matching click-action pen with black ink. The notebooks is emblazoned with the phrase "Part of an Epic Team!"
The Thanks For Being Awesome Eco Travel Tumbler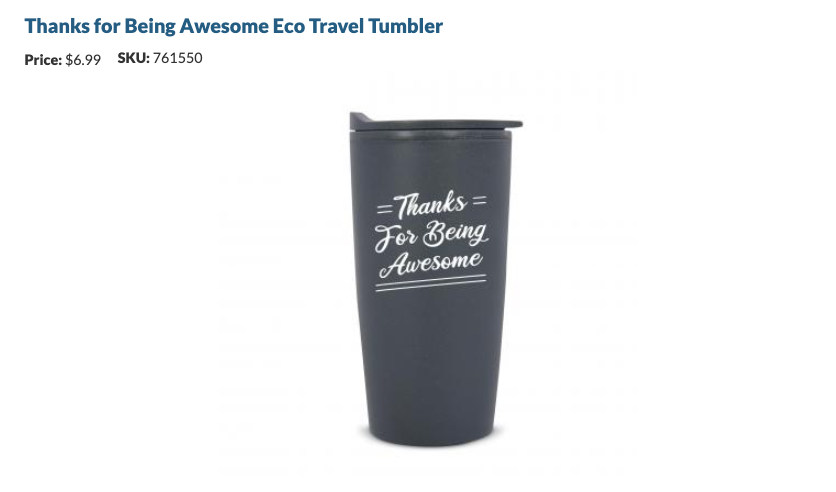 Whether working from home or back at the office, just about everyone has a cold drink at their desk and one can never have too many cups, which makes this humble gift just about perfect!
It's a 20-ounce tumbler made from sustainable plant-based materials that comes with a spill-resistant lid and features double-walled construction to help keep hot drinks hot and cold drinks cold for hours on end.
Best of all, you can order yours emblazoned with a variety of messages if you'd prefer something other than the default "Thanks for Being Awesome," or you can put your own company's logo on the cup. Whatever you choose, this is an exceptional, low-cost gift idea.
And The Black Mini Speakers and Power Bank Personalized Set
If you have an audiophile working for you, then you can't go wrong by giving this high tech gift set! It features a 2" mini speaker crafted from aluminum and a matching power bank which makes it easy to keep the batteries in all of the recipient's electronic devices fully charged.
Best of all, you can either emblazon the charger with your company's logo, or a personalized message if you prefer. This one's a bit more expensive than the other options we've mentioned but it is absolutely fantastic!
Didn't find the perfect gift in the selections we highlighted above? Not to worry, this is just the tip of the proverbial iceberg. Spend some time browsing our full collection and you're sure to come away with tons of great gift ideas for everyone in your employ.