Now that we've definitively shaken off the chill of the winter months and warmer weather is upon us, it's time to start thinking about restocking and resupplying your gift and award inventory for your employee recognition program.
Fortunately, we have a lot of great new products arriving on a near constant basis and have put together a fantastic spring collection this year. Here are just a few of the highlights:
The Thanks For All You Do Blossom Tote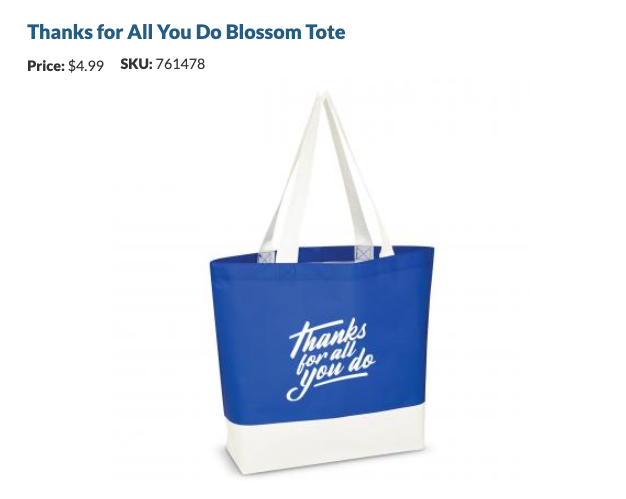 This handy laminated tote, measuring 14.5" x 4.38" x 17.75" is a fantastic versatile gift that can be ordered with a wide range of inspirational phrases or your company's logo, and comes in a variety of colors to boot!
If you decide you want one (or several) you can order yours in any of the following colors:
Dark Blue
Light Blue
Black
Green
Or Orange
Everybody is always heading somewhere, and this tote makes it easy to bring whatever supplies you may need, wherever you're headed!
The Thanks For Being Awesome Blossom 24 Ounce Velvet Bottle
Staying hydrated on the hot days most parts of the country experience this time of year is crucial, so why not give the gift of a cold drink, anywhere your employees might be. This handy 24 ounce velvet bottle features a satin-touch exterior with a flip top lid to minimize the chance of spillage.
It comes with a variety of inspirational phrases and has room for your company's logo, and is offered in the following colors:
Light Blue
Dark Blue
Red
Black
Orange
Or Gray
A great, practical gift that's sure to be appreciated.
The Working, Growing, Succeeding Watering Can
Tis the season of green growing things and if you've got a plant lover in your employ, nothing could be finer than a plant to help liven up their workspace.
This attractive, miniature watering can is actually a planter, and when you order this gift, it comes with a packet of Forget-Me-Not seeds and a soil packet. Everything needed to grow some beautiful plants, right at your employee's desk.
The Spa Gift Box (Tobacco and Patchouli)
One of our best sellers, the spa gift box set is a superb gift option that includes:
A 3.5 ounce, hand poured soy wax candle in a reusable concrete holder. If you're not a fan of tobacco and patchouli, we've got three other scent options available.
A mini faux succulent in a 2" ceramic planter
Fresh aloe bath bomb with organic shea butter and essential oils, perfect for a leisurely soak
And for a sweet surprise, a Ghiradelli milk chocolate caramel square
Nothing could be finer!
The Thanks For All You Do Plant Cube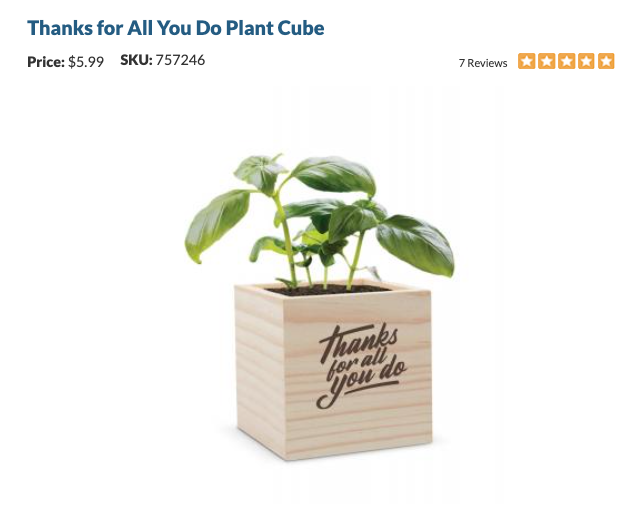 Here's another great option for any plant lovers you may have working for you. This set includes everything your employee will need to grow their own plant and help liven up their workspace:
An attractive wooden planter that can be ordered with your choice of inspirational phrases or your company's logo,
A basil seed packet
And a peat pellet.
Just add water, sit back and enjoy!
If none of the items above are exactly what you had in mind, not to worry. Just spend some time browsing our complete collection and you're sure to find something perfect for all of your hardworking employees!