It can be difficult to keep finding great gift ideas to show your hard working employees how much you appreciate them.
It can be, but it doesn't have to be. Below, you'll find a quick survey of just a few of the fantastic new gift ideas we've got on offer. Check them out!
The Squid Jelly Belly Stress Reliever
You can't stay stressed out when you're smiling, and this irresistibly cute Jelly Belly stress reliever is guaranteed to bring a smile. In the shape of an octopus, it's just impossible to leave sitting idly on your desk. It begs to be held at various points throughout the day.
The Thanks for Being Awesome Talking Stress Reliever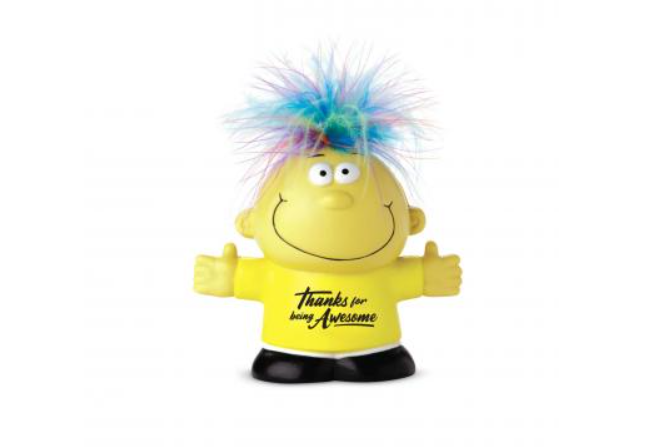 If you're looking for something a little zanier than the stress reliever we just mentioned, it's well worth checking out our talking stress reliever. With his goofy eyes and crazy hair, he's also hard to resist, and he comes with a pre-recorded message.
Squeeze him and he'll say "Whooohooo!  Do I feel great!  It's going to be a stress-free day today!"
The Thanks for Being Awesome Personalized Plant Cube
Many people complain about the lack of color in their work environments. If you know someone who has a green thumb and is looking for a way to liven up their workspace, this beautiful miniature planter might be the perfect gift. It includes everything the recipient will need to grow their own plant, including the planter itself, a seed packet and a peat pack to grow the seeds in.
The Change Wave Motivational Poster
On a more serious note, this wonderful print is as beautiful as it is inspirational. Featuring a photograph of a perfectly captured cresting wave, it bears these words beneath the image:
"Change – If you're not riding the wave of change, you'll find yourself beneath it."
Ride the wave of change! This print can be ordered framed, in wall-mounted format, or on gallery canvas, at your option. It's a sight to see, and is a gift that's sure to be appreciated.
The Thanks For Being Awesome Blossom 24oz Straw Tumbler
Looking for something a little more practical? If so, you can't go wrong with this handy drinking cup. Bearing the phrase "Thanks for being awesome" on it, this 24 ounce capacity cup comes with its own lid and straw. Even better, depending on the temperature of the liquid in the cup, it will change colors right before your eyes.
Everybody likes keeping a drink close at hand while working, so this handy gift item is sure to get a regular workout!
Just add water, give the sprouts a little TLC and watch the magic happen, right there at your desk!
If none of the items we just talked about are exactly what you're looking for, not to worry.  These are just the tip of the proverbial iceberg.  Whatever your budget is, and whatever the tastes and preferences of your employees, you're sure to find the perfect gift for everyone in our full collection.